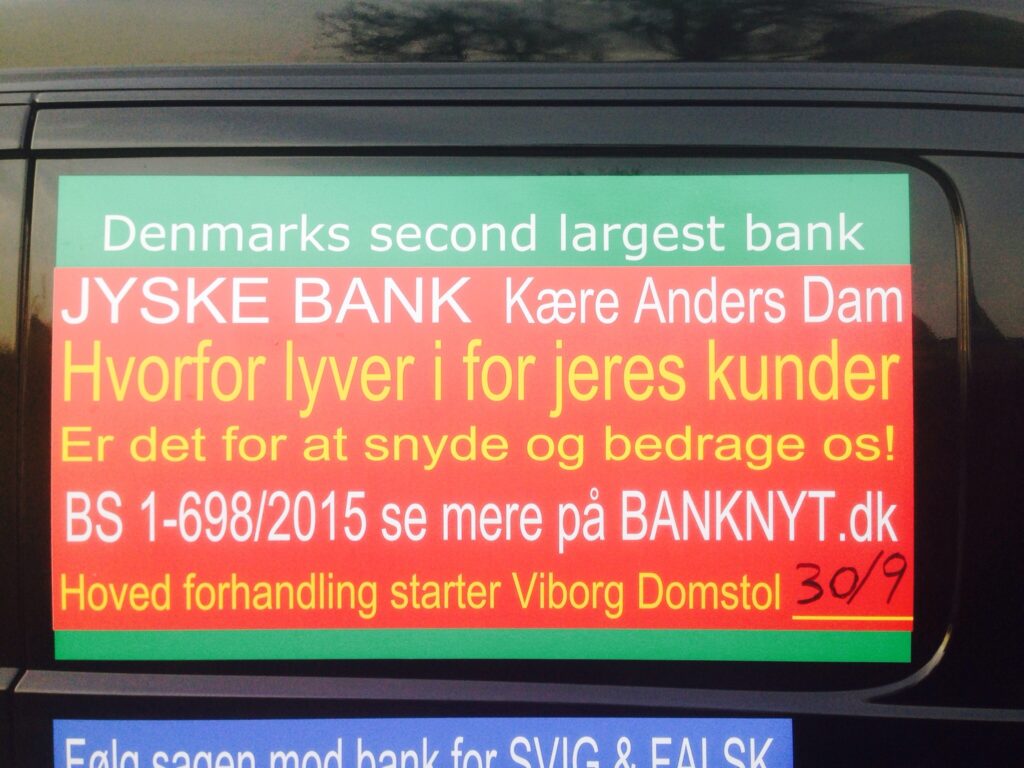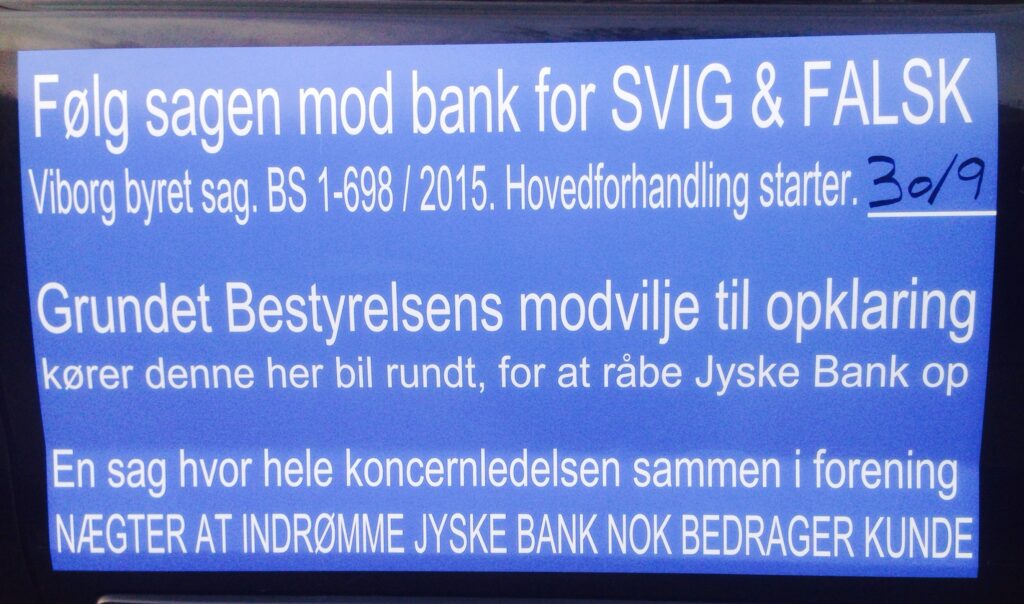 Jyske Bank's Board of Directors
as well as CEO Anders Christian Dam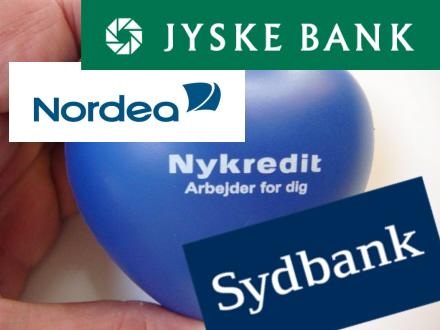 Is fully aware of the bank's continued fraud
Fraud against the bank's own customer, since 2008/2009 until now
–
Therefore, the entire board of Jyske Bank is responsible for fraud, when the bank continues to deceive customer, rather than help the customer with clarification
A.
Is a loan in #Nykredit 4.328.000 dkkr. taken
or not
Nykredit #MetteEgholmNielsen says clearly, there is no loan.
B.
Or do the Danish bank Jyske bank doing and dishonest fraud, against their own customer
Lying for customers
Lying for the lawyers and
Lying for the court
🙂
🙂
The Danish bank Nykredit first covered the fraud, as the other bank Jyske Bank was doing
But after a subpoena of nykredit, admits Attorney Mette Egholm Nielsen reluctantly that Nykredit no loan 4.328.000 kr has been admitted
–
Danish bank nykredit bank admits that Danish bank Jyske Bank is lying
About a loan that is not available
and this is to take interest, of something ad not exist
This is clearly fraud
🙂
🙂
Danish diary of fraud against Danish bank customer, through 10 years.
🙂
See evidence www.banknyt.dk
🙁
🙁
🙁
The smal Danish company has since May 2016
offered top management in the #Danishbank jyske bank, as #AndersChristianDam dialogue
🙂
Yes offered dialogue which the second largest bank in Denmark JYSKE BANK
🙁
After informing the bank to have discovered, the bank lied about loans 4.328.000 DKKR tha never have been taken
–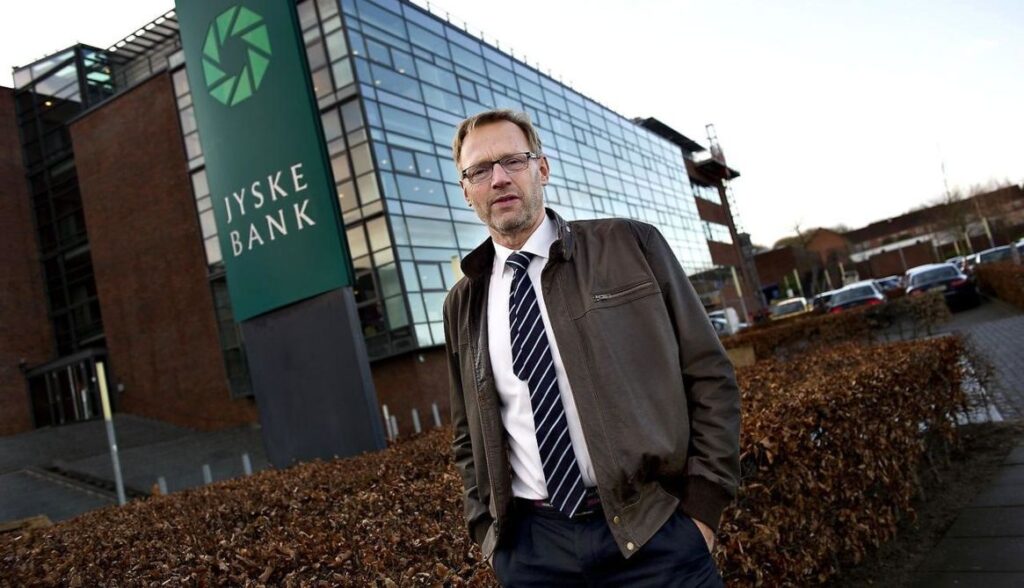 The jyske bank which rejects any form of dialogue
Or just refuse to accept the possibility of a review outside court
🙂
The #Danish #bank jyske bank
continues in the 10th year. conscious #fraud against their Danish #customer
🙁
🙂
🙂
That the bank is a #criminal bank, which is taken in deceiving customers, know atp Danish pensions found all about.
–
Danish pension funds put into large Bank
A criminal bank.
🙂
But if
ATP is #recommended to #sell all shares, in jyske bank to show fraud in Danish banks, is not alright.
If atp sells all shares in jyske bank is not known.
–
ATP pension has been fully informed, about the #criminal activities in #jyske bank.
–
If ATP then wants to keep their shares, or sell their #shares in Jyske bank
Is something the board of ATP itself decides
🙂
🙂
ATP er er blevet fuldt ud blevet orienteret om de #kriminelle aktiviteter som bedrageri mod kunde i #jyskebank
Om ATP så vil beholde deres aktier, eller sælge deres aktier i jyske bank
Er noget bestyrelsen i ATP selv beslutter efter en dom i svig sagen
–
🙂
For more information about the criminal Danish bank
call 0045 22227713
or write on this page
–
🙂
🙂
🙂
One of many attempts to shout the bank
Letter in Danish to employee lawyer in the #DanishBank jyskebank 29-06-2018
Anders Dam is May 18, 2018
Again fully informed about the fraud
🙂
🙂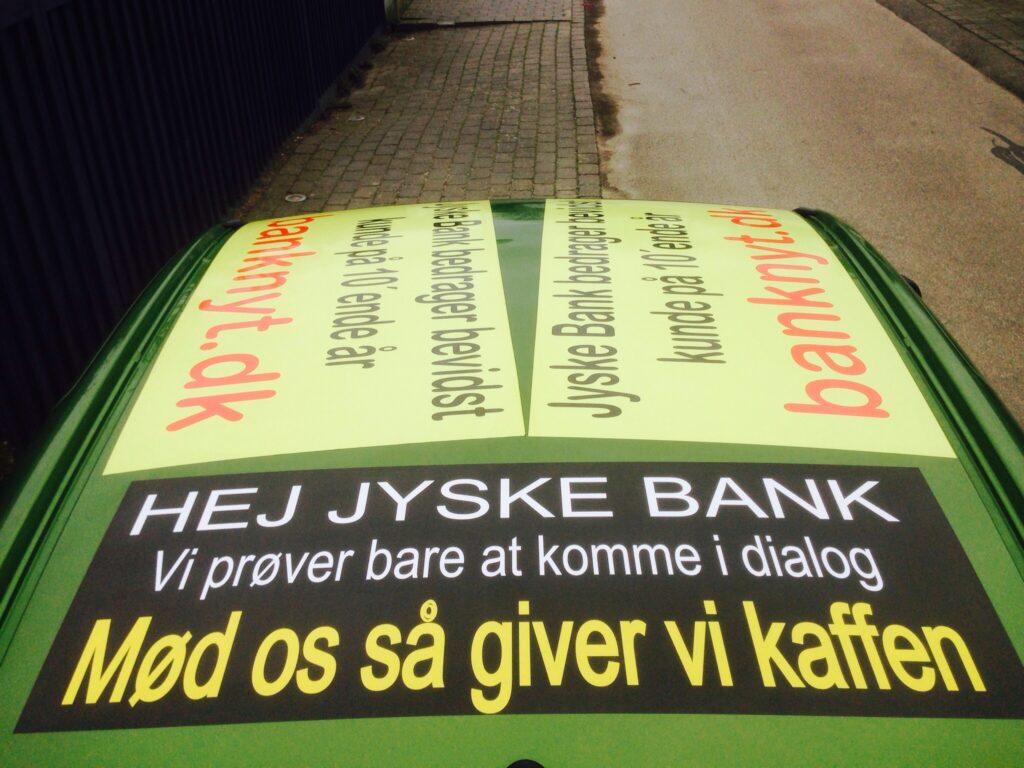 Tell the Danish bank
that the bank should talk with their customers
rather than deceiving them
🙂
🙂
Jyske Bank is repeatedly offered to respond if information is true or false
And offered the bank that the company will correct if something is not true
The bank has no corrections or comments
🙂
🙂
It is well-executed fraud, carried out by several of the melemmer in the association
There are many in Denmark that will cover fraud, against customer in Danish banks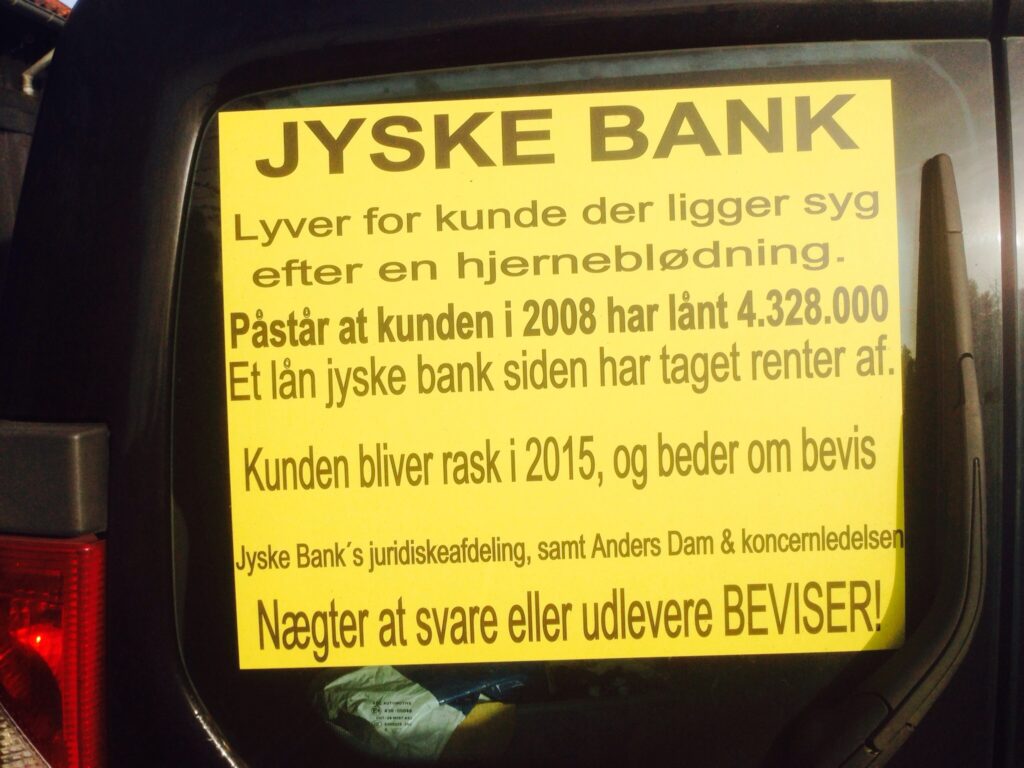 Fraud that certainly is #harmful to the #country
Just like a good movie
🙂
🙂
Customer only wants a conversation with the bank
around the documents that the danish bank jyske bank has hidden from the court
In order to disappoint in court
🙂
🙂
A funny story about Denmark's second largest bank.
And warning against trusting on this bank, less truth in Danish bank
🙂
🙂
searchword
pol #Lån #Cases #Fraud #Cheats
Foundation #Lying #PhilipBaruch #Les.dk #gang #criminal banks
Jyskebank #Deceiving #Customers #AndersDam #BRF #Loan #ATP #Real #News #Denmark #Press